Progress ~ Super Robot Wars EX Enters Playtesting, Plus SRW 3 and 4
Super Robot Wars EX | Super Robot Wars 4 | Super Robot Wars 3
# Posted on Dec. 4, 2018, 1:55 p.m. by Gideon Zhi
I'm writing today to inform everyone that the Super Robot Wars EX script has been doublechecked and edited, and that playtesting has begun in earnest. Hopefully it won't be long before we can release the patch.

I've begun the process of backporting SRW EX's code to SRW3. Though the dialog itself is (mostly) fine, the terminology is in dire need of an update. Further, as EX shows, it could look a lot better than it does. SRW3's script was translated by a different person than EX, 4, and Gaiden's and I trust his work, so the process of getting 3 done should be simpler and faster than EX's.

Since the SRW4 script basically needs to be junked, I've redumped it so it'll be easier to reinsert. TheMajinZenki (JoJo, SRW 2, all five Great Battle games, SRW Advance Portable, etc) has begun translating, but if anyone wants to lend a hand, please don't hesitate to reach out via email or on the Discord server.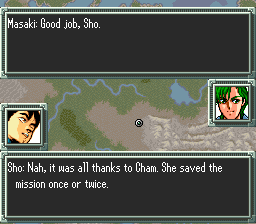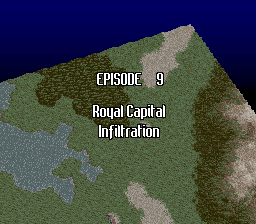 ~
Major Release ~ Shin Megami Tensei if... v1.00
Shin Megami Tensei: if...
# Posted on Oct. 25, 2018, 12:06 a.m. by Gideon Zhi
It's been a long road, but today AGTP releases a complete translation for Shin Megami Tensei if... on the Super Nintendo/Super Famicom. For me personally this journey has encompassed a second undergraduate degree, a cross-country move, a complete career change, multiple periods of both employment and unemployment, the licensure of one of our translation patches, and the beginnings of a family, in addition to having to deal with several project-related IRC and Discord raids, hate speech, and generalized harassment from the SMT community at large. It's done, and I *will* maintain the patch should anyone find any bugs or typos. But that's it.

I do this for the enjoyment of the process, to challenge myself to produce work of ever-higher caliber. if... hits a high enough bar at this point that I'm satisfied releasing it. I hope everyone who's been clamoring for the patch gets some enjoyment out of it; I'll let the game speak for itself.

With Majin Tensei 2 being mostly done elsewhere, don't expect any further Megami Tensei work out of AGTP. No updated patch for SMT1, no back-porting of if...'s work into SMT2, no Majin Tensei 1. I'm done. To those who were looking forward to the aforementioned, I truly apologize. Maybe focus on cleaning up your community.

And now, I'm going on vacation.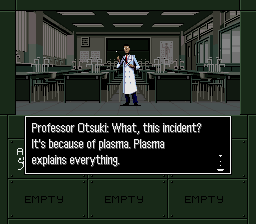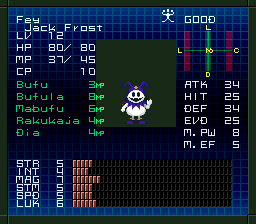 ~
Miscellaneous ~ Quick note
# Posted on Oct. 4, 2018, 6:21 a.m. by Gideon Zhi
Hi everyone, just dropping a quick message to note that the next site update will be three weeks from today (Oct 25.) See you then!
~
Major Release ~ Laplace's Demon Reaches v2.00
Laplace's Demon
# Posted on Sept. 6, 2018, 1:29 a.m. by Gideon Zhi
Today marks a massive update to the old infamously bad Laplace's Demon patch from 2001. The new version adds a completely re-edited script, fixes the issues with the text overwriting itself on-screen, fixes the out-of-order combat strings, throws in a new more typewritery font, expands item names and descriptions, and probably a lot more that I'm forgetting about. Granted, the old version was one of my very first forays into assembly-level hacking, so its crustiness at the time was somewhat understandable, but the new patch is a big enough change that I'm comfortable jumping the version number straight to v2.00. Enjoy!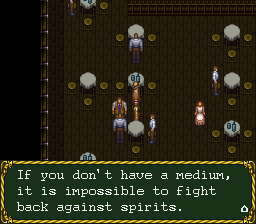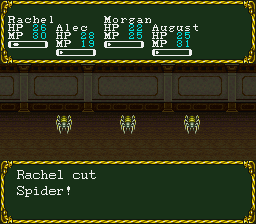 ~
Release ~ Super Robot Wars Gaiden v1.05
Super Robot Wars Gaiden
# Posted on Sept. 4, 2018, 4:26 a.m. by Gideon Zhi
Hi everyone, this is just a quick note to say that SRW Gaiden has been updated to v1.05. Among several typos, this fixes an issue where if an Elemental that does not have a pilot ends up in your Repair screen at the end of a map (for instance, if it gets wrecked and its pilot gets killed as part of a plot event), said Repair screen ends up slightly broken. I'm expecting that this will be the final version of the patch. Enjoy!
~
Progress ~ The State of SRW
Super Robot Wars EX | Super Robot Wars 4 | Super Robot Wars Alpha
# Posted on June 25, 2018, 5:59 a.m. by Gideon Zhi
With the recent release of The Elemental Lords, it's time to talk about AGTP's remaining SRW projects. First on the docket is Super Robot Wars EX, which thanks to some recent tooling I'm proud to announce has taken some massive strides forward in the last few weeks and is very close to being technically complete. The script is in reasonably good shape, though I'm in the process of passing it off for a second look-over by SSJCyberSonic who's fresh from his recent work on the A Portable project. I've added 22 new screenshots to the project's page and am attaching two to this post. I'm hopeful that the game will be ready before the end of the year, but as usual I can't promise anything. Additionally, EX's new toolchain acts as a functional proof-of-concept for work that will be going into Hero Chronicle.

The added benefit of having EX fully functional is that the work can be ported to the other SNES SRW games. SRW3, while impressive for its day, is not nearly up to standard and I'm intending to redo it with EX's new font code. And yes, the various incorrect character names will be fixed and the script itself will receive a fresh edit as well. The project's stuff, while usable, is all extremely old though and I'm basically going to have to redo the hacking from scratch. Shouldn't be too difficult, but no timelines or promises on availability.

So that's the good news. The bad news is that the translated lines for SRW4 and SRW Alpha probably fall about 50% into the "best guess" category; in addition to the poor writing quite a lot of the text was just flat-out translated incorrectly. Alpha has been undergoing a verification process with Jolly, the current editor, who's been steadily churning away on its gigantic script for the last several years; he's estimating that he's about 2/3s of the way through the script. What he's done does look really, really nice though, and I'm looking forward to seeing the final version of the text. For SRW4, we're probably just going to toss the script and retranslate it from scratch. Disappointing, but necessary. For the record, The Elemental Lords suffered a similar issue; this is one of the primary reasons the patch took so long in the first place. If anyone wants to have a whack at SRW4's text please reach out! There's an email button on the Contact page, and I can generally be reached on Twitter or on the Discord.

As a final closing note, I've made several minor fixes to The Elemental Lords. Typos, mispellings, that sort of thing. A few are still trickling in here and there so no new patch yet, but I'll push out a v1.05 or something in the next month or two once that trickle slows.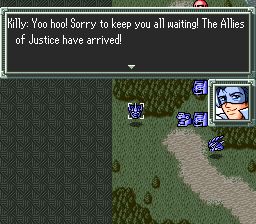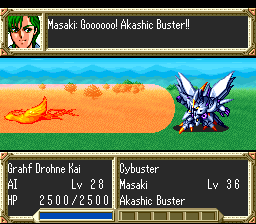 ~
Progress ~ Star Ocean: Blue Sphere
Star Ocean: Blue Sphere
# Posted on June 4, 2018, 4:27 a.m. by Gideon Zhi
Today I'm going to discuss the progress Blue Sphere has had over the last several years. The initial translation completed in 2012, though the writing is pretty rough and it'll need to be edited. It's also kind of glitchy, and there's lots of interface work to be done. But I picked up some Z80 and GBC architecture last fall rather than wait for someone else to help out with it (I've had abortive promises on the technical work from at least three different directions) and managed to convert the main dialog font into 4x8 in the same manner as the Pokemon Trading Card Game. Work continues! I've updated the game's project page with nine new screenshots indicative of the technical changes that have been done.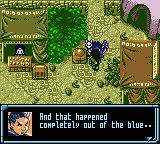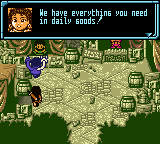 ~
Release ~ SRW Gaiden v1.01
Super Robot Wars Gaiden
# Posted on May 29, 2018, 5:28 a.m. by Gideon Zhi
It's been brought to my attention that the base ROM for the Super Robot Wars Gaiden translation was an overdump. Today I'm releasing v1.01, which uses the No-Intro ROM as a base. Fun fact: when the SRW Gaiden project started, the overdump was the only copy of the game available; No-Intro didn't exist! The update also adds in the usual AGTP logo intro, and fixes a small handful of typos. There will likely be another patch at some point down the line to further fix any typos that may crop up, but beyond that there shouldn't be anything of significance that would detract from anyone's enjoyment. Play and have fun!
~
Major Release ~ Super Robot Wars Gaiden: The Elemental Lords
Super Robot Wars Gaiden
# Posted on May 21, 2018, 11:51 p.m. by Gideon Zhi
Today AGTP releases a complete translation for Super Robot Wars Gaiden: The Elemental Lords. This title details the very beginning of the saga surrounding Banpresto's first original Super Robot War character, and includes aboslutely no licensed units: the story and characters are all entirely original. The art style additionally is non-SD and the game includes several additional tactical elements not present in other SRW titles. It is, in fact, as ideal entrypoint as possible for anyone not familiar with the series.

The translation is complete and without any known issues. Enjoy!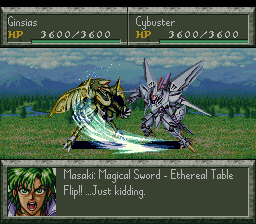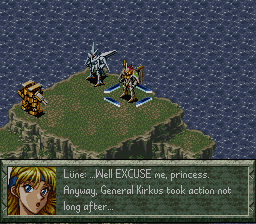 ~
Announcement ~ Announcing Hero Chronicle
Hero Chronicle
# Posted on May 10, 2018, 11:28 a.m. by Gideon Zhi
Today I'm announcing a translation project for Hero Chronicle: Project Olympus. This is a crossover RPG from Winkysoft and Banpresto, who you'll know from Super Robot Wars. In fact, Masaki Andoh and Shu Shirakawa make appearances as playable characters, and this features the very first appearance of Gilliam Jaeger, a character who will go on to appear in several Super Robot Wars titles. The title screen music from this game actually became Gilliam's SRW theme starting with the PS2 Super Robot Wars Original Generations titles.

I picked up Hero Chronicle for a number of reasons. First, I wanted to dabble with creating a fully-proportional menu font out of a tiled font, a skill which will serve me well in other projects like Madara 2. Second, Gilliam's appearance gives this game historical importance amongst Banpresto's crossover titles. I actually began work on this during the Great Battle endeavor back in January. The script was once again translated by TheMajinZenki, though once again it needs a good edit. And ,as state,d the menus are going to be extremely challenging, but the experience will be a good one and it's already given me some thoughts on how better to handle the other SNES SRW titles' menu problems. It's going to be a bit of a slog to get the rest of the technical work done but I've got a good feeling about it.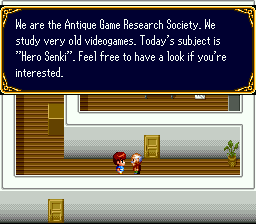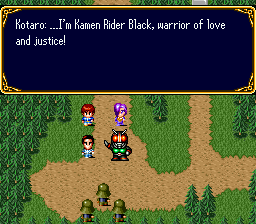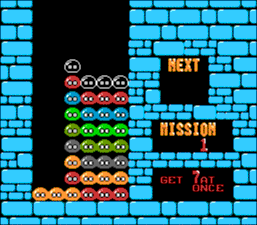 | | |
| --- | --- |
| Platform | NES |
| Genre | Puzzle |
| Publisher | Compile |
| Published On | July 23, 1993 |
| Initial Release | June 2, 2000 |
| Latest Release | June 2, 2000 |
| Current Version | 1.00 |