Progress ~ Last but not least, Madara 2.
Madara 2
# Posted on Nov. 14, 2008, 9:57 p.m. by Gideon Zhi
Tom finished this one a while ago, but I never mentioned it, because I do so love posting screenshots of this stuff. But alas, again! Nothing to show for it yet, I'm afraid.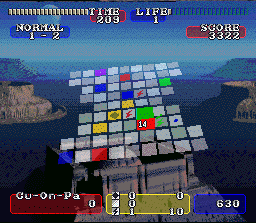 | | |
| --- | --- |
| Platform | SNES |
| Genre | Puzzle |
| Publisher | T&E Soft |
| Published On | Dec. 20, 1996 |
| Initial Release | Oct. 6, 2001 |
| Latest Release | Oct. 6, 2001 |
| Current Version | 1.00 |