Major Release ~ Metal Max Returns: Roll out!
Metal Max Returns
# Posted on Nov. 6, 2007, 4:13 a.m. by Gideon Zhi
After possibly the longest playtest period I've ever had to slog through, Metal Max Returns is finally ready!

Metal Max is an open, nonlinear RPG with a heavy focus on sidequests and tank tweaking. The main game has you chasing bounty heads and finding new vehicles for your entourage, but there�s so much other stuff to do! You can pimp your tanks with decals and accessories, you can buy furniture and wall hangings for your home, play with little critters that eat your money and grow to enormous proportions, or enjoy a host of minigames. Go hunting for this week's target and become a rich and famous bounty hunter!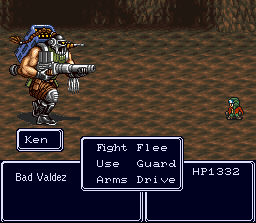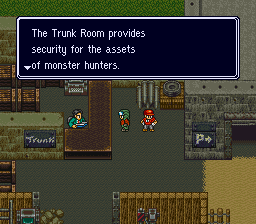 ~
Miscellaneous ~ Metal Max Nearly Ready for Beta
Metal Max Returns
# Posted on April 11, 2007, 9:23 p.m. by Gideon Zhi
Just a quick post to air out an old project. I picked Metal Max Returns up a few days ago with the intention of finishing it; lo and behold, it's nearly done. I'm _NOT_ going to be expanding character names, I'm afraid - the menu alterations would just be too much work - but otherwise, I think it looks pretty good.

I've finally finished translating the shops, I think, and I'm working on the subscreen now. Afterwards, I may have one or two things to tinker with in combat, one word to translate on the BSCon, and a few town names to center in a few menus, and it'll be ready for testing!

I don't know about anyone else, but I'm seriously excited about this project. The game offers tons of customization options for the enterprising tank fiend, plus a fair amount of bonus games and optional material for you to do when you're not hunting bounty heads. Here are a few snapshots indicative of current progress. As I progress I'll be replacing the old screenshot slideshow with new meat, so be sure to be on the lookout for that as well.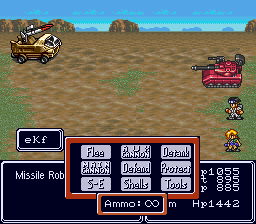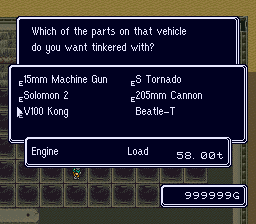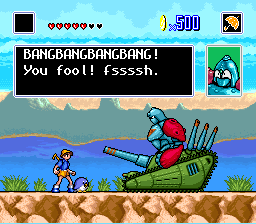 | | |
| --- | --- |
| Platform | SNES |
| Genre | Platformer |
| Publisher | Naxat Soft |
| Published On | Sept. 29, 1995 |
| Initial Release | Nov. 2, 2009 |
| Latest Release | Nov. 2, 2009 |
| Current Version | 1.00 |